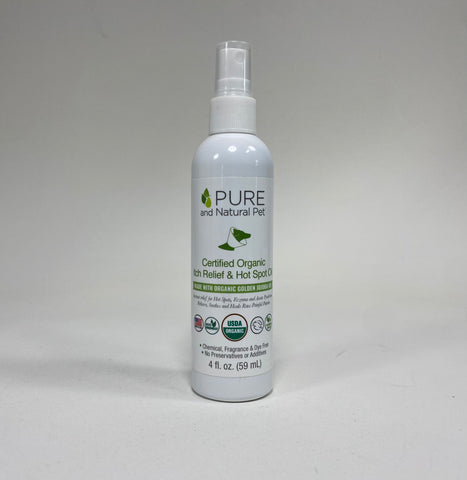 Certified Organic Hot Spot Oil
USDA Certified Organic, Made with Organic Oils, Chemical-Free, Paraben-Free
Fragrance-Free
No Synthetic Dyes or Perfumes, No Preservatives or Additives, Made in the USA
2 fl. oz
Our Hot Spot Oil features USDA Organic Golden Jojoba Oil. It is great at calming insect bites and provides instant relief for wet eczema and acute pyoderma. Relieves, soothes and heals raw painful patches. Simply spray on skin and leave on for lasting soothing comfort and relief.
DIRECTIONS
Check your pet for fleas or ticks as they are often mistaken for hot spots. We recommend using our tips made from medical grade foam, for a more sterile and gentle application. If signs of infection are present, consult your vet.
TIPS
Apply directly to irritated skin. Rub gently and massage into skin.
BENEFITS
Instant relief for wet eczema & acute pyoderma
Relieves, soothes & heals raw painful patches
Stops itching
Safe & gentle on your dog's coat
Great at calming insect bites
Customer Reviews
Miracle Potion
My Boy is forever getting hot spots any rain, swimming, snow. The minute I see him licking, I rub a tiny bit on the area, & no flare up. If I miss a spot & it gets really bad I again rub this on and it heals. Even he knows as if I say 'I'll put boo-boo stuff on he waits & happily allows me to put it in. Summer he had a bad hotspot before I found this stuff & nothing the vet gave me helped, he wouldn't let me near it. I bought this put it on & after that he looked forward to me putting it in as it soothed it and slowly let it heal. Wish it came in a bigger bottle w/no spray just pop cap. It works like a miracle I keep it in the house at all times. Also my itchy cat I rubbed a tiny bit on and no more itching.
10/12/2021
Laura K.
Poughkeepsie, New York, United States
I'm Impressed!
Not sure what's in this stuff, but whatever it is, it works! Our bulldog had terrible "hot spots" on his front feet for weeks. After vet trips, antibiotics that didn't work, and being told they were infected cysts, I decided to give this stuff a whirl. Scott's products that I've used have never disappointed and this one is no different. Between the food and this oil, our bully is back in business and hot spot free after literally four days of the treatment, once a day, rubbed in really well between this paws. It's magic! Thanks Scott and Team!