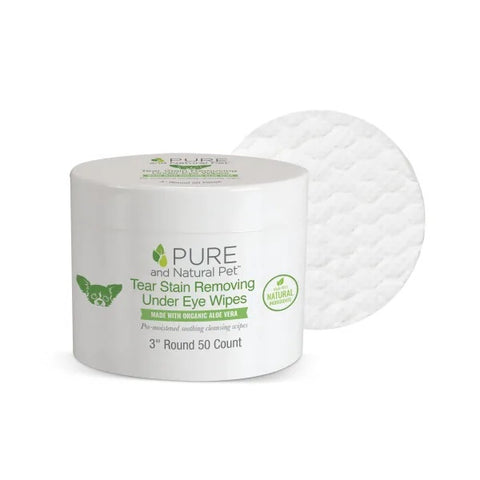 Tear Stain Removing Under Eye Wipes
Easily clean eye stains with our eco-friendly and flushable 3" round, Unscented Eye Wipes. The ultra-gentle eye wipes have special enzymes that break down the tear stains, which are protein-based, leaving your dogs fur clean and without residue.
DIRECTIONS
Gently and thoroughly wipe eye area to remove stains. Avoid direct contact with eye.
TIPS
Gentle enough for everyday use to remove stain buildup. For external use only. For dogs 12 weeks and older.
BENEFITS
Pre-moistened soothing cleansing wipes
Contains special enzymes that break down the tear stains
Will not affect flea & tick treatments
Ingredients
PURIFIED WATER, USDA CERTIFIED ORGANIC ALOE VERA, USDA CERTIFIED ORGANIC WITCH HAZEL, PROTEASE, USDA CERTIFIED ORGANIC GLYCERIN, VITAMIN E, USDA CERTIFIED ORGANIC CHAMOMILE EXTRACT, USDA CERTIFIED ORGANIC CUCUMBER EXTRACT, COCO-BETAINE (DERIVED FROM COCONUT), COCO-GLUCOSIDE (DERIVED FROM COCONUT), COCOAMPHOACETATE (DERIVED FROM COCONUT), POTASSIUM SORBATE, CITRIC ACID
Description
Paraben-Free, No Synthetic Dyes or Perfumes, Sulfate-Free, Formaldehyde-Free     Made in the USA                      3" round - 50 count